Current:
Cekca Het: Trans Panic
@g39, Cardiff, as part of
No Time To Plan An Ending
Becca & Clare, Freya Dooley, Rebecca Gould
Rhiannon Lowe, Will Roberts, Neasa Terry
16 October - 18 December 2021
Work in this show is a continuation of work developed for Mission Gallery earlier this year. This project, Cekca Het: Trans Panic is me, me then and now. It's a mess of noise and memory, hope and fear; it's a paene to the long lost and a statement of intent; it's an exploration of secrecy and a lived life; it's a search for a safe place within the hard wild reality of being trans.
The following is a text edit from Trans Panic magazine, produced as part of the exhibition at Mission Gallery, Swansea in 2021.
I'm caught between different states, officially: born and created in one, with time, experience, life, loves, people, messages, communications, paperwork to match (in the eyes of others); and living in another, one that I have been dreaming of, manufacturing and living for as many years as I can remember, to (re)make myself anew. I now have yet more proofs of who I am and will be; proofs on paper and trails online, proofs in stone, written, drawn, recorded; official statements in full. I have the beginnings of another whole lived life.

This is another new year. I'm about 11 in new years; I am coming to that time when in my earlier life I like to think I made myself; me, my heart, my fears, my wants and desires, my places and loves, my confusions. It was the '80s; I was sneaking Smash Hits and Melody Maker under the covers, figuring the closest I'd get to being a woman was Martin L Gore, ffs.
The work has been made during 2020/21, while based at g39, Cardiff on a Freelands Foundation fellowship, and developed from work supported by a grant from Arts Council Wales.
For a look around my studio, click here.
This virtual studio tour was commissioned by
Freelands Foundation
and scanned and produced by
The Net Gallery
.
Image above:
billboard for g39: Cekca Het/Rhiannon Lowe, 2021
photograph: Liam O'Conner
costume: Abi Hubbard
original image as backdrop, billboard at Mission Gallery, 2021
photography: Megan Winstone
styling: Charlotte Wilcock
mua: Amy Jenkins
mua Ist assistant: Jackson Freeman
Cekca Het is Rhiannon Lowe, and the product of Rhiannon Lowe
WIP, as is she.
This site can be noisy
so turn on the noise,
if you like.
There's other stuff at
rhiannonlowe.co.uk
and at
axisweb.org
Images and fun are at
︎
Cekca Het is currently based at
g39,
supported through
Freelands Foundation
. In 2020/21 Cekca Het was awarded a small grant through Arts Council Wales, when much of this project was first started.
Buy artwork, noise and merch at
cekcahet.bandcamp.com/merch
Image: Cekca Het: Trans Panic, installation shot, g39, 2021
Photo: Ric Bower
Trans Panic Knuckle Dusters
collaboration with Ric Bower
and Robert Kennedy
Photo: Liam O'Conner
staged during take down of
Trans Panic exhibition at
Mission Gallery, 2021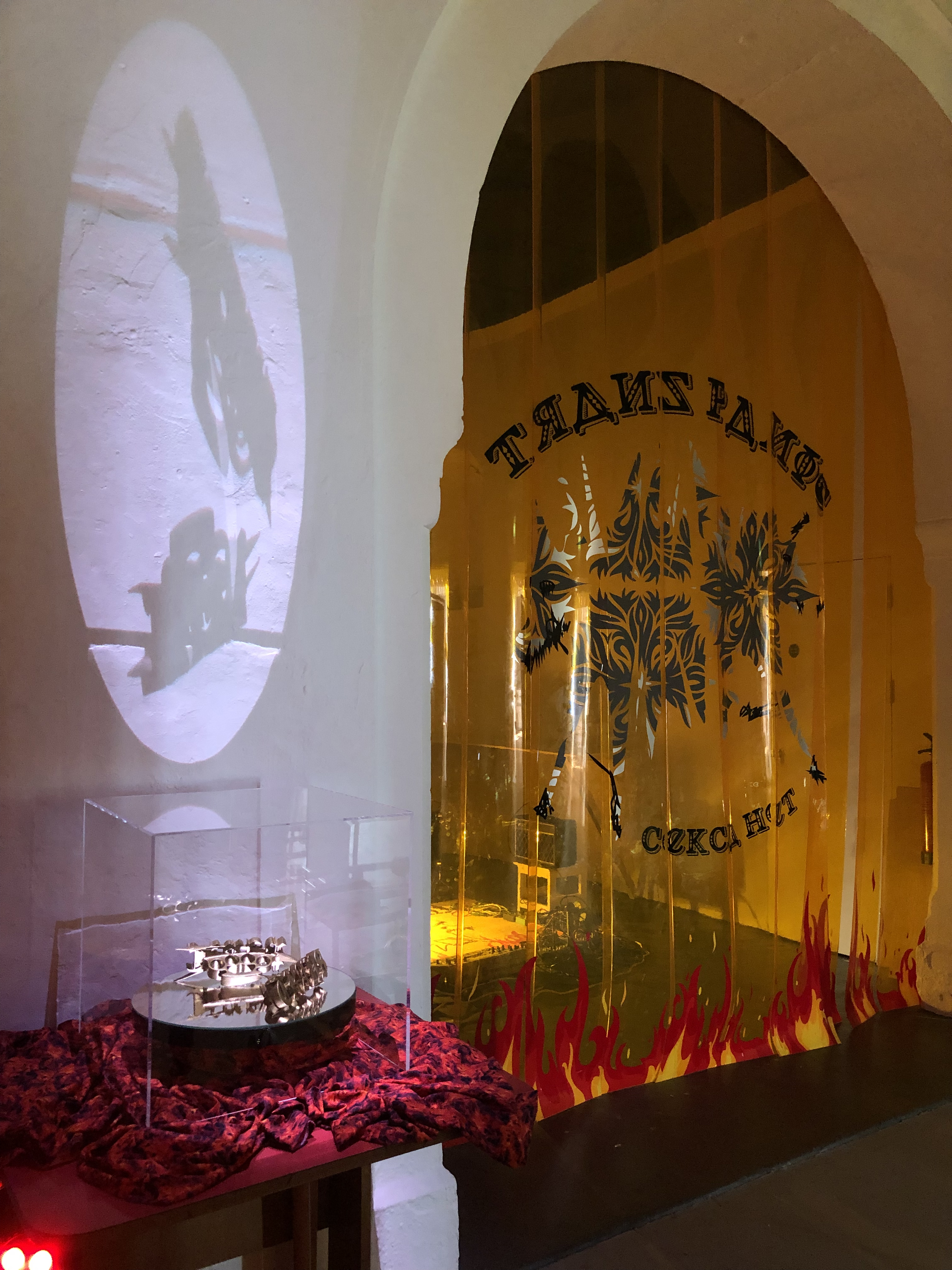 Installation shots of Cekca Het: Trans Panic
Photos: Rhiannon Lowe
An earely version of a film made for
Careful Networks
project, initiated by Phoenix Gallery, Leicester, with thanks to Peter Bonnell of QUAD for the nomination. Visit the link to see all the works including the final version of the film.